Illuminate Art and Light Festival Creative Minds 
Guest Blog By: Grace McGovern
The Illuminate Art and Light Festival will give the public an opportunity to explore larger-than-life projections and view temporary installations. The Cedar Valley will be lit-up with inspiring, challenging, and thought-provoking creative projects created by artists right here in the Cedar Valley. But who are these incredibly talented artists, and what inspires them to create these challenging and astonishing creative projects? Well, let me introduce you to Monica Sanguino, Indonesia Fulcher, and Taylor Hanson, three of our extremely talented artists working with the Illuminate Art and Light Festival Projects Team to bring these inspiring and thought-provoking creative projects right to your backyard on College Hill.
Indonesia Fulcher
Indonesia Fulcher was born and raised in California, but has been living in Waterloo, IA for the past 14 years. Ever since she was a kid, she loved drawing and painting, however, she did not start taking art seriously until she was in high school.
"My work is my way of speaking." Said Indonesia. "I am always thinking about my past and how that can affect my future. I like to provoke emotions in a way like being overwhelmed, nervous, excited." Her art reflects who she is and what is around her. It is inspired by her experience through life, but also from other perspectives. "Just recently I have noticed that my work has started conversations. Not on a serious matter, but more of their own stories; such as 'This reminds me of my grandfather'."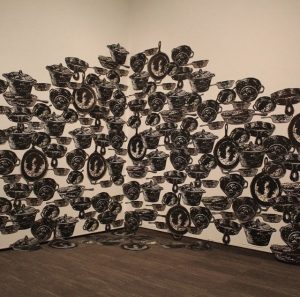 When asked who inspires her, she could not just pick one person. Her family has had a big impact on her art, but so have her professors and employers.
Indonesia has been working with the projects team in creating a project for the festival. She has been experimenting with the projects and knows that she wants to include some of her printmaking at the festival, along with what she has learned at workshops with the projects team.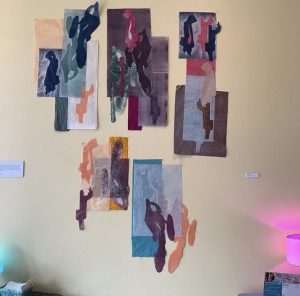 "My art is really personal to me. Coming from a very scrambled childhood, this gave me a way to use those memories and move forward, focusing on the next generation in the family. I do try to find some ironic humor when I am making work. My art gives me the opportunity to learn; about myself, others, objects, and the space we live in." – Indo Fulcher
You can find Indonesia's work at the Illuminate Art and Light Festival right off of College Hill by Mohair Pear.
The Illuminate Art and Light Festival will be held free to the public on May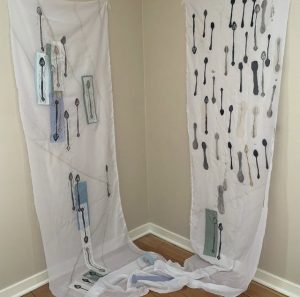 14 and 15 between 9:30-11:00pm on College Hill. Learn more about the event and its artists at hiloartslab.com. Can't wait to see you there!
Stay tuned for our next guest blog to learn more about artists Indonesia Fulcher, and Taylor Hanson.
Grace J. McGovern , is a student at the University of Northern Iowa with an IDS of Advertising and Visualization.  She is also in Pi Sigma Epsilon and serves as their VP of PR.