First Annual College Hill Garage Sales
April 30th, 2022 9am-3pm
The College Hill Partnership is excited to bring you the first annual College Hill Neighborhood Garage Sales on April 30th, 2022, from 9:00am to 3:00pm. 
Your rags might be someone else's riches! So gather your old things and get them ready for the College Hill Garage Sales.
Live in the College Hill neighborhood? Complete this form by April 24th to have your sale listed on the garage sale map. This is a great (and free) way to advertise and bring shoppers to your sale. In the event of rain, each individual sale will determine whether or not to cancel.
Don't live in the neighborhood or don't want to host your own sale? Donate to the College Hill Partnership's garage sale! The CHP will be hosting our own sale in Seerley Park. All proceeds will go directly to the College Hill Partnership Seerley Park Fund. 
If you have items you would like to donate, please drop them off at the Partnership office at 2304 College Street. Donations will be accepted on April 15th, and 16th from 9:00am to 1:00pm, and April 22nd and 23rd from 1:00pm to 4:00pm. Please no large furniture or appliances.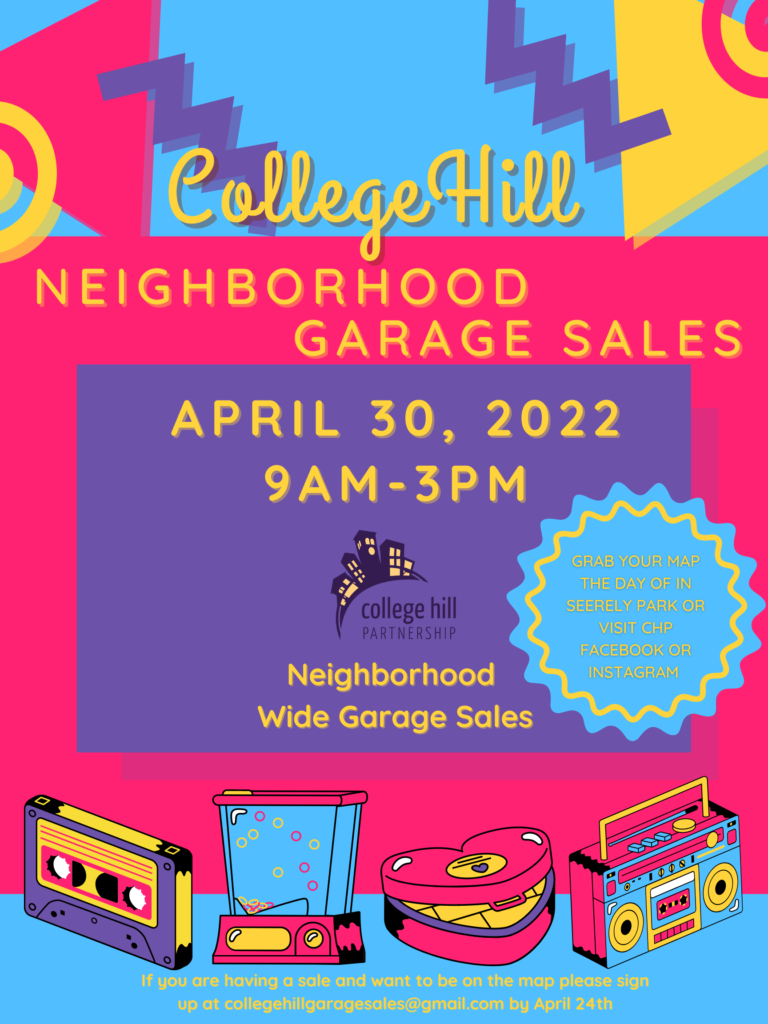 We have several volunteer opportunities both before and on the day of the sale. If you're interested in volunteering, please email us at collegehillgaragesales@gmail.com.