The Beauty of Seerley Boulevard, Cedar Falls Iowa
Guest Blogger: Sabine Martin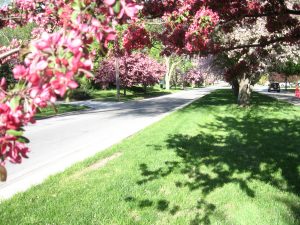 Each May, Seerley Boulevard offers a breathtaking view of vibrant pink blossoms five blocks long, from Olive Street to Clay Street, but, these iconic crabapple trees have not always been part of the landscape.
1900's
In the first decades of the 1900s, Cedar Falls looked very different from what it is now. A trolley system ran through Cedar Falls streets as the main public transportation. The tracks ran south from downtown on Main, west on Seerley to campus, north on College Street, east on 18th Street and north on Walnut Street. The trolley service ended in Cedar Falls in 1941, and it was replaced by buses.
1940's
On Seerley Boulevard, which was called 24th Street before it was renamed in 1943 after UNI's second president, what used to be trolley tracks left a median strip in the middle. But city officials were not quite sure what to do with it. In 1948, the median strip was narrowed to make lanes on Seerley wider for buses.
1950's
In 1954, there were petitions to widen Seerley even more and "hard surface the grassy strip between Olive and Walnut" for more parking, according to the Waterloo Daily Courier on March 7, 1954.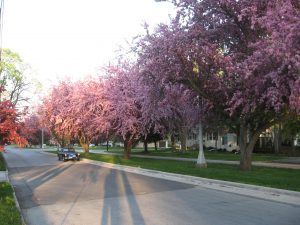 But two citizens objected to paving over the boulevard's grassy strip, and instead suggested that the city widen the street four more feet on each side for parking. That idea won, and the grassy median strips remained.
1960's
By the early 1960s, flowering crabapple trees were added to the grassy median, creating a stunning display each springtime. According to a Waterloo Courier story from 2008, "The project wasn't the easiest to do, as they had to dig down through old cinders from the rail line."
Norm and Mimi Zischke have lived on Seerley Boulevard for 53 years and are very familiar with the crabapple trees. "They were much prettier when we first moved here in 1965 because they were fuller and in their prime of life. The bloom was more profuse," Norm said. "There were street lights all along Seerley Boulevard with a big cast iron base and a globe that was enchanting. You would come home at night, and Seerley Boulevard would welcome you."
The old street lights are gone, but the flowering crabapples still remain. "The crabapple trees are about at the end of their life. They have been trimming them for a long time. I think that they are beautiful for one, maximum two weeks, but then the other 50 weeks they look awful," Zischke said.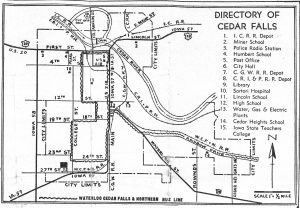 Nevertheless the city of Cedar Falls is still maintaining the crabapple tree tradition.
"The city prunes the trees as necessary and will replace them if they die," said Mark Ripplinger, Director of Municipal Operations and Programs of Cedar Falls.
(Map Courtesy of Cedar Falls Historical Society).