40th Annual College Hill Arts Festival
Head to the Hill for the 40th Anniversary of the College Hill Arts Festival on the corner of College Street and West 23rd Street in Cedar Falls, Iowa.  June 15th and 16th view artwork from 75 Artists.  Artists come from far and wide to display their ceramics, fibers, glassware, graphics, jewelry, paintings,  sculptures, and more.  Special performances on Saturday by Eulenspiegel Puppets and new preforming artists including a Mariachi band.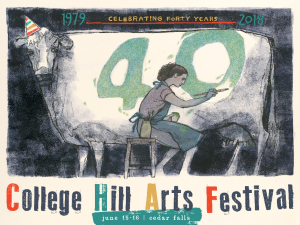 To Celebrate the anniversary the College Hill Arts Festival will be holding two drawings for multiple $40 gift certificates.
June 15th 5pm: Drawing for fifteen $40 gift certificates
June 16th 12pm: Drawing for twenty-five $40 gift certificates
Local favorite La Calle Food Truck will be present along with many other local food vendors, and community clubs serving delicous foods.  Make a day out of heading up to the Hill and enjoy everything from a cup of Sidecar Coffee in the morning to all of the night life College Hill has to offer.
Check out the amazing selection of beers at our local bars such as Octopus, The Library, and Social House.  Want to rest your feet?  Take a break and grab something to eat in the newly rennovated Other Place or grab a smoothie to go at the NEW Smoothie Bar, The Shakery.
(Art Work by Gary Kelley)
For more information including all artists attending please head to the College Hill Arts Festival's Website.
We hope to see you at the 40th Annual College Hill Arts Fesvial June 15th-16th.
Times for CHAF:
June 15th 12-8 pm
June 16th: 10-5 pm