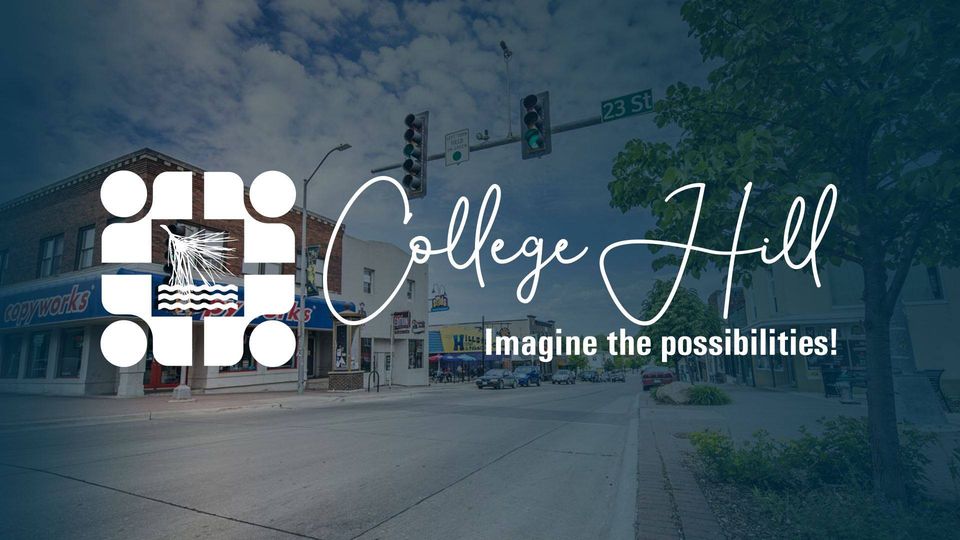 We hope you will join us for Imagine College Hill Charrette Week Oct 3rd – 8th.
What is the Virtual Design Charrette?
A virtual community design charrette focuses on the College Hill area and surrounding neighborhoods. Events will take place on-line, beginning with a Hands-On Visioning session on Saturday morning and wrapping-up with a Work-in Progress presentation the following week.
There will be several other opportunities for public involvement via the web, including daily studio updates, topical presentations, questions and surveys, and opportunities to virtually "drop-in" to the studio to talk with members of the design team. All are encouraged to participate. This effort will lead to a new College Hill Vision Plan, followed by updates to the zoning code for the area.
How Do I Participate?
Check https://ourcedarfalls.com/ for more details and the weblink for each virtual activity.
Important Dates:

October 3: 9:00 am – 11:00 am.

The week will start with a virtual Hands-on Community Design Workshop on Saturday morning. Participate from the comfort of your own home (or any other location you choose with an internet connection!) City residents will gather virtually to share their ideas about the future of College Hill. The workshop will include on-line facilitated small group discussions. People will share their aspirations for the future — using words and images to discuss topics like urban design; walkability; character and scale of new buildings; areas for change; and areas for protection. Facebook EVENT – With Zoom Information


October 5: 5:00 pm – 6:00 pm; October 7, Noon – 1:00 pm.

Virtual Design Studio. "Drop" by at scheduled times to chat with the design team!! The design team will work remotely all week, building on the ideas from the Hands-On Community Design Workshop, exploring and testing options, getting feedback, and creating drawings and visualizations to help us imagine the future of College Hill and surrounding neighborhoods. The studio will be "open" at several times during the week and you are welcome to "stop by" and ask questions about the teams work.  October 5th Facebook Event – With Zoom Information, October 7th Facebook Event – With Zoom Information


October 14: 5:30 pm.

Wednesday evening, Charrette Week activities will conclude with a "Work-in-Progress" presentation during the Planning Commission meeting. The design team will share the preliminary work on the College Hill Vision Plan. Facebook Event- With Zoom Information

Why is this important?
Because you want…
a vibrant neighborhood center that provides a wide variety of goods, services, and activities for students and the larger community;
the edges of College Hill to transition to your neighborhoods in a positive way;
walkable neighborhoods with a variety of housing types for people of all ages;
your children to inherit a Cedar Falls that is a great place to live, work, and play;
a community that is designed to manage the growth pressures of today and tomorrow,
a chance to express your opinions on College Hill and future developments.
We hope you will join us for this exciting event to help shape the future of College Hill.  Again, for more details head over to
https://ourcedarfalls.com/
. And if you have any questions please feel free to reach out to us at collegehillpartnership@gmail.com.