Just Because it is Sturgis Falls Doesn't Mean You Have to Miss Out on Farm Fresh Goodies From a Local Farmers Market!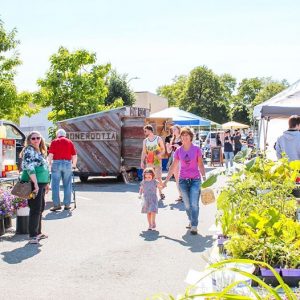 Start the Sturgis Falls weekend at the College Hill Farmers Market! Join us this Thursday 4-6 p.m. to purchase local products, enjoy a grilled burger, and some live music! Don't forget the downtown Cedar Falls Farmers Market is not open this week due to Sturgis Falls.
College Hill Farmers Market is open every Thursday from 4-6 p.m. at our NEW location on 22nd Street between College St. and Olive St.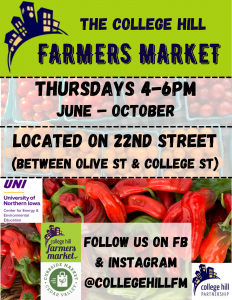 It is a  producer only market with lots to offer including mushrooms, produce, plants, flowers, popcorn, baked goods, healthy snacks, smoothie bowls, lamb, chicken, beef, eggs, letterpress print items, home decor, and more! We have new vendors this year–Marks Family Purebreds (beef), Garden of Life (produce, baked goods, home decor), and Pretty Good Co. (Letterpress print items).
If you don't have time to shop at the market you can order Curbside and pick up your products anytime between 4-6 p.m.
cedarvalley.localfoodmarketplace.com