College Hill Fall 2019 Update
The College Hill Partnership always looks forward to this time of year. With another school year started, we launch into our busiest season with our 4th annual College Hill Oktoberfest. Held right after two amazing College Hill Events:
The Green(Hill) Triathlon:
Hosted by Joywheel Cycling &
Balance Hot Yoga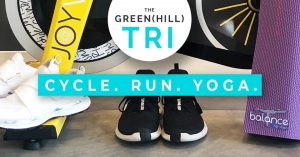 When: September 28th 8:45-12:30
               A morning full of fun fitness and some good company starts with 30 minutes of cycling at Joywheel, 2.5-mile run/walk from Greenhill to the Hill, and finally a 30-minute cooldown at balance Hot Yoga. After all of this, you are bound to make a couple of new friends that you will want to enjoy a drink with at Social House Rooftop. Spots are limited, and the registration fee is $45 includes a drink ticket. Head over to Facebook for all the details.

Pear Fair:
Mohair Pear's Outdoor Indie Fair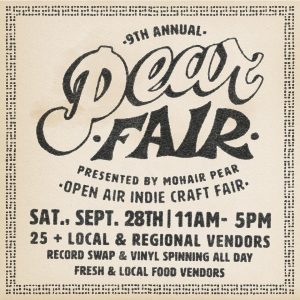 When: September 28th 11-5pm
               It's the 8th year and going strong for Mohair Pear hosting this fantastic open-air indie fair. With tons of vendors homemade products and fabulous food from La Calle, you will not be disappointed.  Check out their Facebook event for all the details.

College Hill Oktoberfest
When: September 28th 5:30-9:30pm
               4th year running Hammerslagen, bags, German-inspired food from La Calle, Live Music by Amelia and Melina and of course tons of fun and beer. Sponsors include Mohair Pear, Copyworks, and Balance Hot Yoga. 
2nd Annual Event PopUp PopOut: Hosted by Price Check Kicks
When: September 14th 12-8pm
            Shop local all clothing brands.  Jordan, Supreme, Nike, Champion, Adidas.  New Merch and an awesome give away.  Head to the Hill for some amazing fashion and lots of fun. 
Grand Opening: Buzz Smoke & Vapor
When: September 20th 10am- 2am
               Buzz Smoke & Vapor is hosting its grand opening.  Check out their social media pages for details.  Facebook  Instagram
The Partnership has another reason to love this season. With the help from some fantastic volunteers, we have raised enough money to complete our first phase of work on our Updates to Pettersen Plaza on College Hill. Contractors will be breaking ground on the plaza to remove the current plantings & trees. They will also be installing shade-providing plantings that will create a more useable space. We are still working to raise funds to complete our other phases.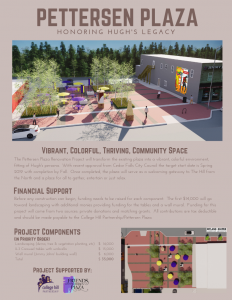 These phases include; purchasing shaded seating, erecting a mural on one of the boarding buildings, and funds to maintain the part/ install new public art.  
If you would like more information about our Pettersen Plaza Update Plans or to donate, send an email to collegehillpartnership@gmail.com requesting a pledge form.
To stay updated with all College Hill Events check out our College Hill Calendar here.